Water Safety
Following the release of the New Water Safety Strategy by the Australian Water Safety Council their key findings and messages have been updated and are shown in the two bullet point lists below.
(Click here to download the Strategy)
Key findings – Australian Water Safety Strategy 2030
For every fatal drowning, there are three non‐fatal drowning incidents

Males drown at a rate 4 times that of females

One‐year‐old toddlers record the highest drowning rate of any age

Rivers and lakes account for 36% of drowning deaths

Coastal environments (beaches, ocean and rock) account for 41% of drowning deaths

23% of drowning deaths occur while swimming and recreating

61% of drowning deaths occur outside of major cities

Fatal drowning rate has reduced by 26% over the last ten years

Child (0‐4 years) fatal drowning rate has reduced by 50% over the last ten years
To stay safe around water, the Australian Water Safety Council urge all Australians to:
Supervise children at all times in, on and around water

Learn swimming, water safety and lifesaving skills

Wear a lifejacket when boating, rock fishing or paddling

Swim at a patrolled beach between the red and yellow flags

Avoid alcohol and drugs around water
Whether at home, visiting family and friends or on holiday, it is always important to keep safety in mind when children are in or near water.
Drowning is the number one cause of death for children under five. Drowning can occur quickly and quietly, without any warning noises. Sadly, on average, one child dies each week in Australia as a result of preventable drowning.
Children can drown in shallow water:
swimming pools

spas

bath tubs

rivers, creeks and oceans

dams and lakes
Children also drown in less obvious locations:
nappy buckets,

toilets

water tanks,

water features

fish ponds

pets' water bowls
Pool Fence Safety
'Check the Safety of Your Pool Fence Before Your Child Does'
In 2011/12, 34 children aged between 0-14 years drowned – the majority of these incidents happened in backyard swimming pools.
Evidence suggests that a large number of drowning deaths in pools are as a result of fencing that is faulty or non-compliant with Australian Standards.
Click here to see the new Safety Ninja Video on backyard pool safety.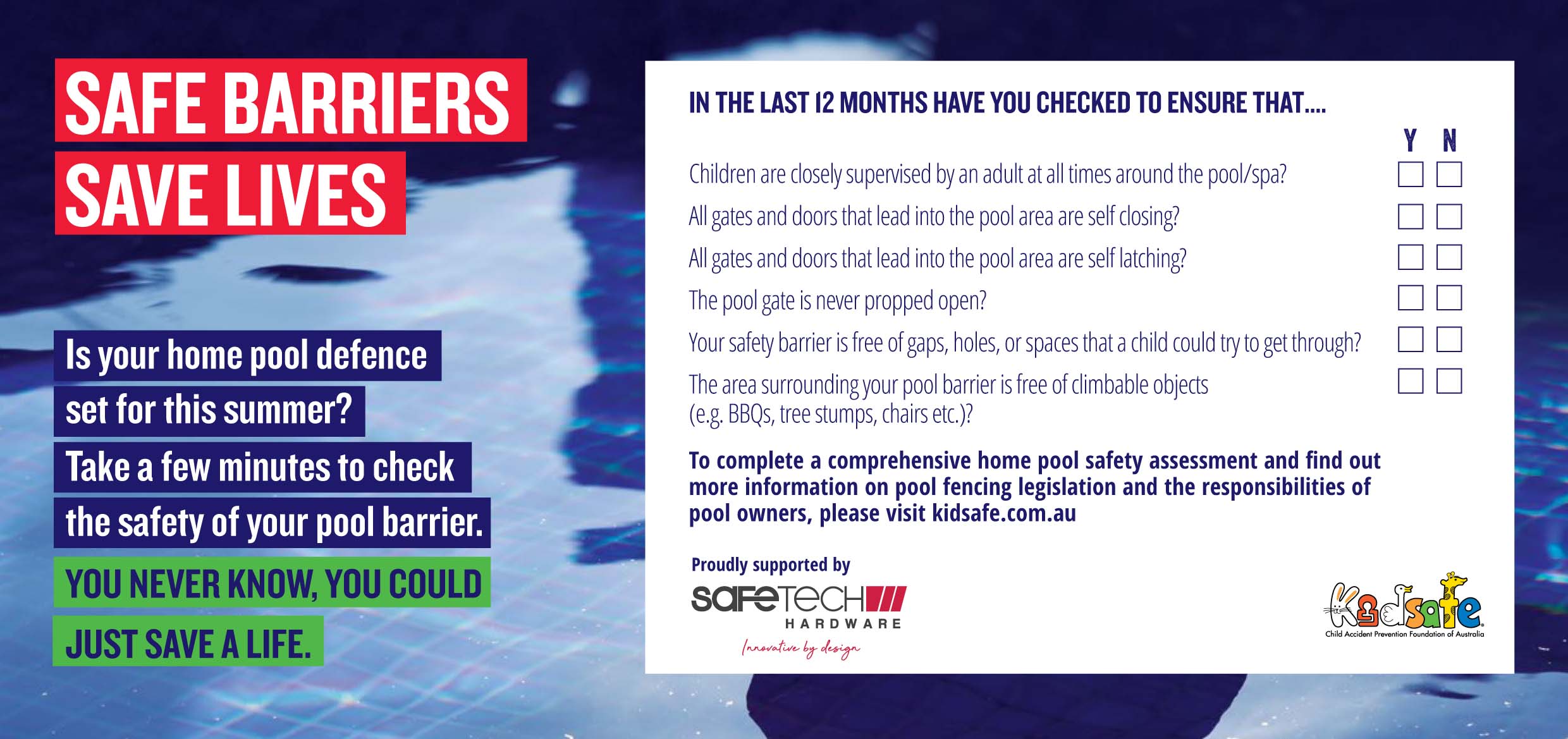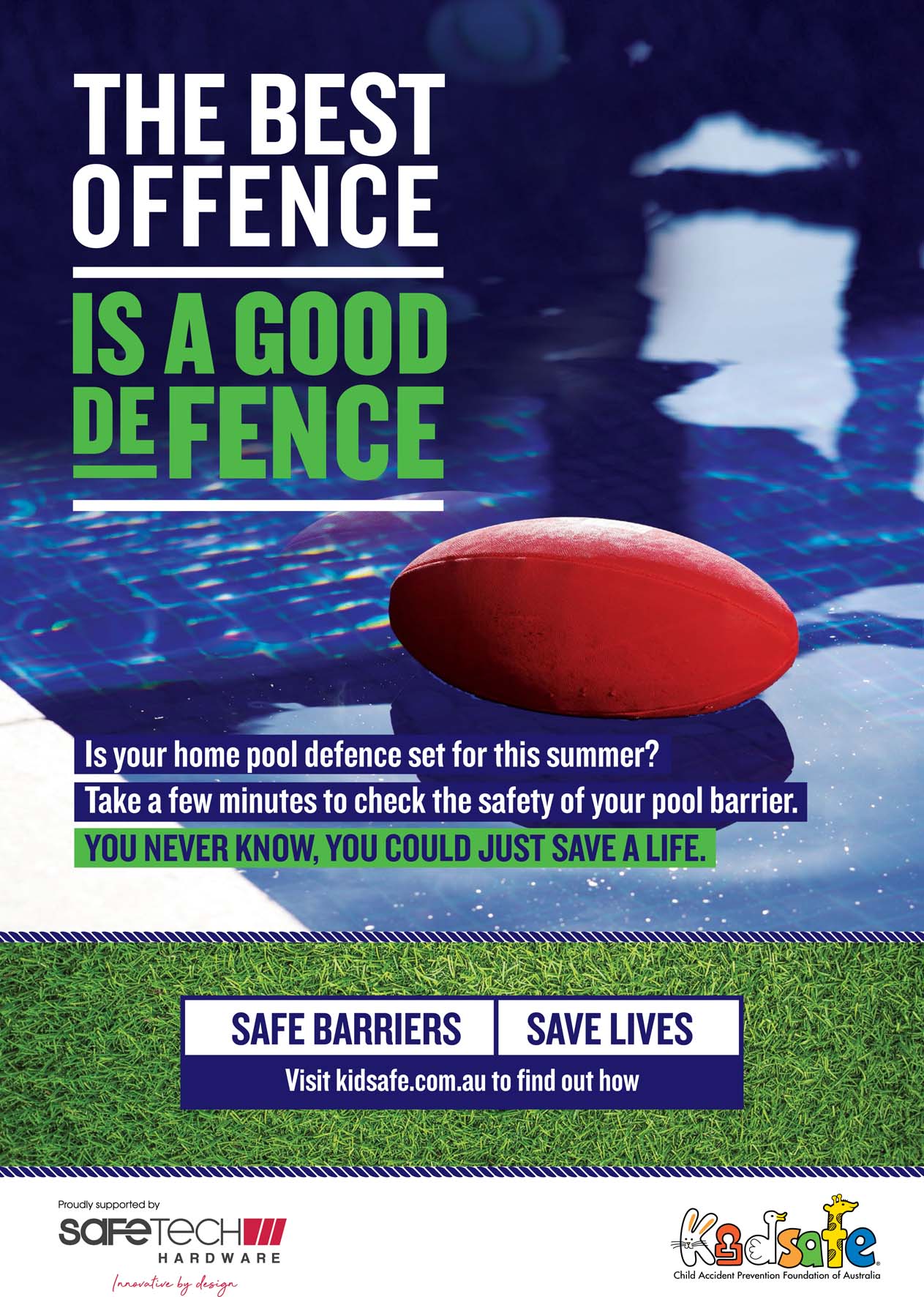 Renting - Your Rights and Responsibilities
Tenants
When you are renting a property it is still vitally important to check the safety of your pool area.
Make sure that your landlord has installed and maintained a pool fence and gate that meets the relevant Australian Standards.As a tenant, you are required to ensure that the pool fence is maintained and operating correctly.
If pool gates or fences are faulty or have become damaged and it has made them unsafe or insecure, ensure your child cannot gain unsupervised access to the area and contact your landlord or agent for urgent repairs.

Landlords
It is important that your fence complies with the pool fencing laws to avoid a fine of $5,000 or more, as well as helping to ensure the safety of tenants, neighbours and visiting families.
Kidsafe encourages landlords to ensure their agents conduct regular checks of pool fencing and gates, as well as providing tenants with a pool safety checklist when they move in.
Additionally, we recommend that landlords always categorise pool damage repairs as 'urgent' and allow their agent to immediately authorise such requests.

First Aid and CPR
It is a good idea for parents and carers of children to at least have basic knowledge of First Aid and CPR – this will equip you with the skills to respond just in case the unthinkable does happen. Having First Aid and CPR knowledge is particularly important if you have a home pool or spa.
The best way to ensure you have up to date and comprehensive knowledge is by taking part in a formal first aid course every three years and updating your CPR knowledge every 12 months. For information on available First Aid courses and how you can book your spot, please visit the links in the First Aid Courses section below.
If you have a home pool or spa it is a good idea to have a CPR sign clearly visible nearby (e.g. on the pool fence) as a reminder of what to do in an emergency. Kidsafe also recommends that all households have a fully stocked First Aid kit which is easily accessible.
Hopefully these are skills you will never need to use. However, it is better to be prepared just in case… you may just save a life.